Close Protection Chauffers From The London Chauffeur Company
Highly experienced, professional, confidential, reliable & discreet close protection security chauffeurs for all London & UK addresses.
London Close Protection Chauffeurs
It is an increasingly complex and diverse world in which we live today. More and more clients are finding themselves asking if they may require the extra reassurance afforded by our Close Protection Chauffeuring Services.  Here at The London Chauffeur Company, we are able to supply fully trained close protection chauffeurs from within our team.  We can offer close protection chauffeured transport for Corporate VIP's, Political Figures, Media Celebrities, Sports Personalities and any individual, due to status, public recognition or occupation, who may be subject to unwanted attention.
The London Chauffeur company have many years of experience as chauffeurs to many high profile clients particularly TV and media personalities and VIP musicians. We are very pleased to have our own in-house close protection operatives and can also provide extra close protection chauffeurs and a backup team if required.
Having both extensive Military and Police backgrounds, and full Advanced Protection Security Driving qualifications to IQ Level 4 including Close Protection Techniques, anti-hijacking and evasive driving. We offer a highly skilled and experienced London Close Protection Chauffeur service as well as offering a briefing service to clients in Situational Awareness for security during travel.
We pride ourselves on our professionalism, specialist training and vast operational experience, providing the highest level of security and transport solutions. Our Security Chauffeurs are trained in defensive tactics and situational awareness – having operational experience with anti-counter surveillance methods, we will provide the highest level of skill and experience as your close protection chauffeurs.
We are here to help with the planning the safety and logistics of your itinerary and will ensure we deliver the highest level of expertise and skill to ensure an excellent service. You can be assured of our total discretion and complete confidentiality at all times.
Our chauffeurs that have been trained in defensive security driving. This can be an essential skill when transporting VIPs, politicians, celebrities, CEO's and other 'at risk' individuals. Skilful defensive driving enables our chauffeurs to avoid potential incidents before they happen. If an unavoidable situation does arise, our chauffeurs will take immediate and efficient action to remedy the situation and keep our clients out of harm's way.
Depending on the nature of the threat, additional security staff and cars may be needed. We will discuss the potential threats with you formulating an effective solution to reduce the potential for danger.
Our Close Protection and Security Chauffeur Services are teamed up with our range of stylish, immaculate and impeccably kept vehicles. Our drivers have all received basic Emergency First Aid training and all chauffeur fleet carry a first aid kit.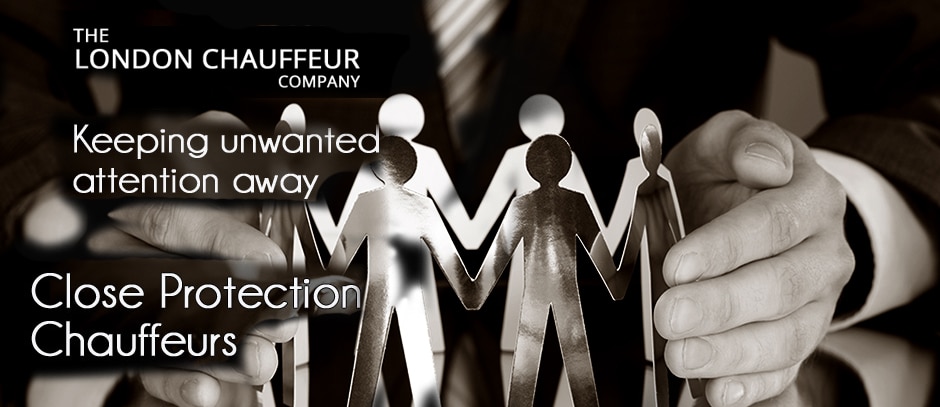 London Chauffeur Company High-Security Chauffeurs
Here at the London Chauffeur Company, we are regularly asked if we can provide a higher level of secure chauffeured transport in the city, well the fact is we always have as many of our chauffeurs have police and military driving backgrounds.
We are easily able to offer a high level of secure chauffeur service which can be tailored to your exact requirements.
Call us and tell us about your concerns, and let us put your mind at rest. We provide a discreet, personal, reliable, secure and safe chauffeured transport around London.
Whatever the size of your party we can provide extra cars with extra security. Your security is always our main priority
We are always mindful of the heightened security-conscious world we live in and our chauffeurs are constantly kept up to date with the latest in defensive driving techniques.
Our close protection chauffeurs have Advanced Protection Security Driving qualification IQ 4 which is based on the national police protection driver's course for the private sector and run by ex-metropolitan policed driving instructors. They also have experience of driving with the Special Escort Group (SEG) outriders from the Metropolitan Police.
The London Chauffeur Company always strives for the highest level of personal service and excellence within our industry.
Whatever the requirements of your stars, personalities, chairman, CEO or executives all our clients enjoy the renowned London Chauffeur Company service, always safe, reliable and personal. All our chauffeurs are chauffeurs are carefully vetted and all security checks are made.
We know that the most vulnerable moments during a client's journey are approaching, travelling or exiting their transport. Our close protection security chauffeurs are constantly vigilant and trained to ensure that safety is maintained at these times.
London Chauffeur Company are happy to offer advice on the most safe and appropriate options for your chauffeured London journeys.  We offer pre-travel briefings to all executives and VIP's to minimise the risks when they are travelling with us. We have on board tracking and monitoring affording optimum safety and reassurance. Our highly experienced team can readily integrate with in-house security arrangements which you may already have in place.
Your Safety Is Our Priority
We are highly experienced in providing extra levels of Chauffeur Security In London and throughout the UK